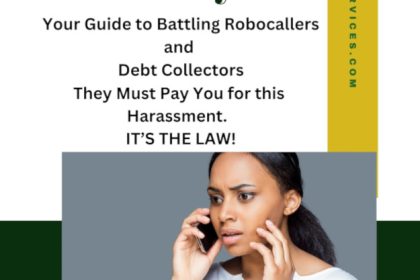 Welcome to our comprehensive guide on how to protect yourself from robocalls and take legal action against unwanted and fraudulent calls.
If you're tired of incessant robocalls and want to regain control of your phone, you've come to the right place. This course is crafted to ensure you're up and running in just 1 day,
By the end of this course, you will be able to:
Understand the different types of robocalls and their impact on consumers.
Actionable steps to protect against robocalls.
Real-life case studies of successful lawsuits.
Sample demand letters and documentation forms.
Resources and contact information for relevant agencies
Embark on a journey that empowers you to reclaim your rights!
Comprehensive and easy-to-follow guide.
Content creators aim to monetize your knowledge.
Entrepreneurs keen on setting up a membership site.
Businesses looking to create a totally private internal training program.
Someone curious about the capabilities of LifterLMS.
This course gives you all the tools you need to create, manage, and succeed in the realm of online courses and memberships.
Benefits:
Regain control of your phone and privacy.
Protect yourself from scams and fraudulent calls
Seek compensation for damages caused by robocalls
Empower yourself and become an advocate for change
Contribute to a safer and more secure telecommunications environment
30 day course for $69.99
30-Day Access, Including A Free Credit Report Audit! – Take Control of Your Privacy
What You'll Get:
Unlock a full month of access to a wealth of information and strategies to combat unwanted calls.
This plan provides you with Full Course Access: Dive into the entire "Call Defenders Academy" curriculum, including video lessons, expert insights, and downloadable resources.
Extended Learning: Enjoy a 30-day window to absorb actionable information and apply it effectively to protect your privacy. Flexibility: Ideal for those looking for a longer-term solution to address privacy concerns at their own pace.
A Free Credit Report Audit!
Who Should Choose Plan 1: Individuals facing persistent unwanted calls and seeking in-depth solutions. Those looking for extended access to essential knowledge. Learners who want flexibility in their learning journey.
Benefits of Plan 1:
Comprehensive Knowledge: Gain a deep understanding of how to combat robocalls and debt collectors. Take Control: Empower yourself with ample time to implement strategies and protect your privacy.
Flexible Learning: Learn at your own pace, making the most of your 30-day access. Choose Plan 1 and equip yourself with the tools to fight back against robocalls and debt collectors over an extended period.
Regain your peace of mind with this 30-day solution! 
Getting Started
Begin Your Course
Next Steps